Advantages of Fabric Structures with Rigid Steel Frames
A White Paper Dispelling the Myths of Fabric Building Design
With continuous improvements in performance, safety and speed of erection, fabric buildings are increasingly on the short-list of preferred building types. Fabric buildings adhere to the same engineering guidelines as other types of structures, and they have advantages that can't be matched with steel or wood buildings. Download to learn more.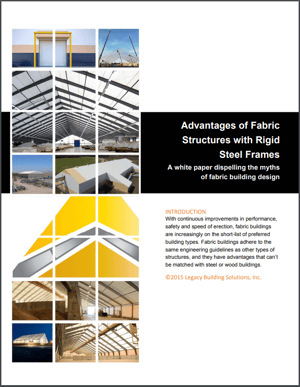 Despite continuous improvements in fabric structure technology – including performance, safety and speed of erection – myths about the viability of fabric structures persist. The truth is that fabric structures on rigid steel frames are competitive with steel and wood-framed buildings – and include advantages that these other structures can't match.
This white paper will dispel several of the myths that plague fabric structures and spell out some of the advantages of rigid-framed fabric buildings.