Making the Case for Fabric Storage Buildings
Chapter 1: Introduction
Why Fabric Storage Buildings?
Fabric storage buildings allow natural light in while keeping environmental factors out. They are fully customizable, super strong, energy-efficient and easy to install and maintain.
In order to understand and appreciate the benefits that come along with fabric buildings, it is essential to discuss the PVC material that comprises the fabric in some fabric buildings.
PVC Vinyl Fabric
PVC fabric is an ideal material for storage buildings. Whether the goal is strength, flexibility, durability or environmental friendliness, fabric buildings fit the bill.
There are two types of fabric used in fabric buildings: polyethylene (PE) and polyvinyl chloride (PVC). ExxoTec™is an exclusive and cost-competitive PVC fabric.
ExxoTec™ has superior strength and performance characteristics when compared to PE fabrics. In independent laboratory testing, ExxoTec™ Elite was proven to be twice as strong as a typical PE fabric—and it will retain 91% of that initial strength after 13 years of exposure to the elements.
ExxoTec™ PVC fabric is a prefered building material for fabric buildings. Using ExxoTec™ provides unmatched value in the fabric building industry. This tension fabric structure membrane is built to withstand harsh weather conditions and provide superior longevity. What's more, with a fabric building skin made of ExxoTec™ PVC fabric, you can be sure your structure will feature the aesthetic appeal you're looking for. That's right, ExxoTec™ PVC fabric comes in a variety of colors.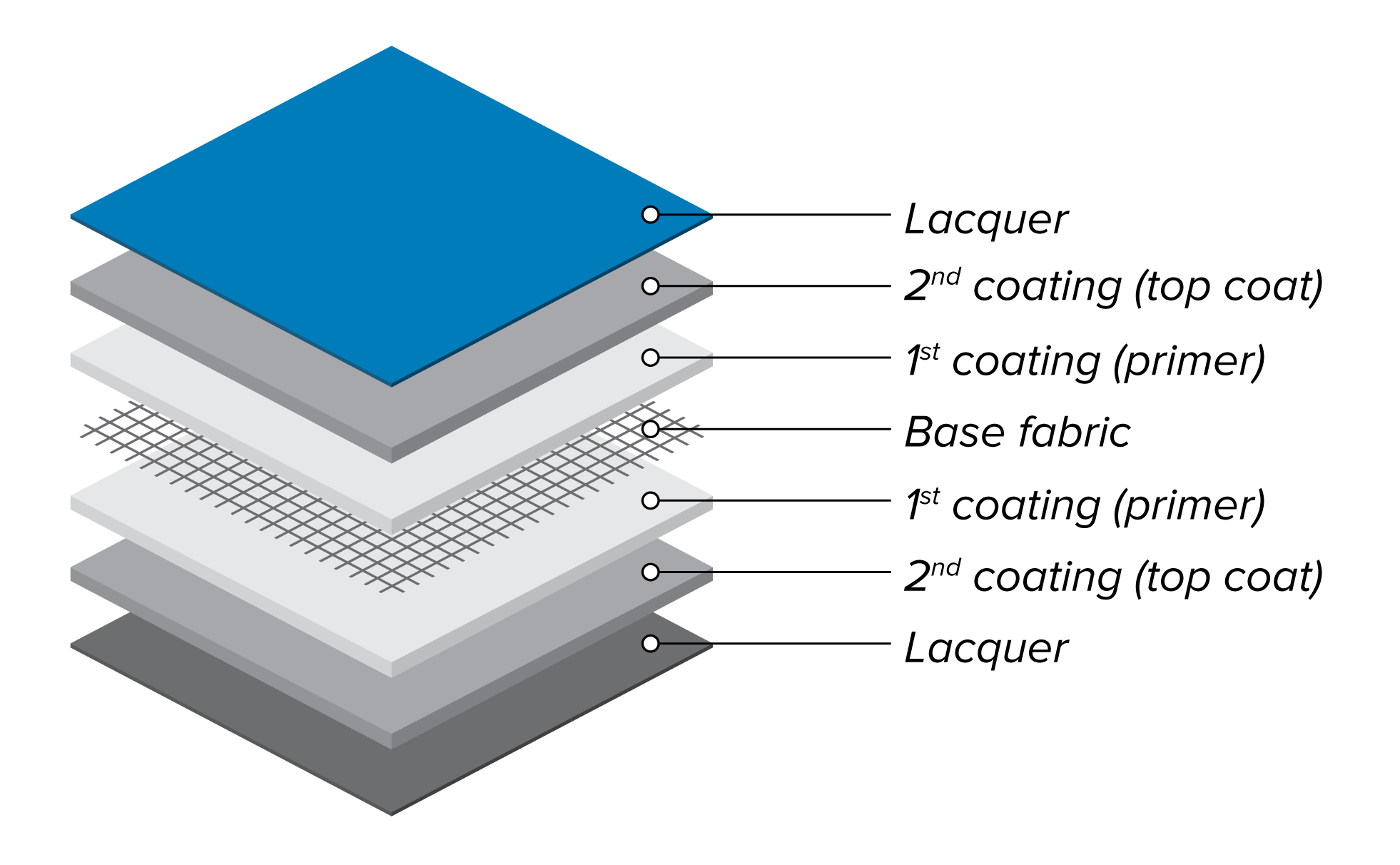 A tension fabric building has several advantages. These include:
Inside a fabric building, you'll receive up to 12% of the natural daylight through the roof and walls, enhancing the interior environment.
In a corrosive environment, fabric will last longer and have a better warranty than a steel roof.
Fabric is a thermally non-conductive material, which will be cooler in the summer and warmer in the winter.
Fabric panels are less expensive and easier to replace than steel panels.
PVC Fabric Properties
Natural Light
The PVC fabric material allows for an abundance of natural light within fabric structures. Since sunlight provides much of the daily illumination, there is less need for artificial lighting, which helps to reduce energy costs through the life of the building. Adding to their energy efficiency, fabric buildings can include skylights and solar panels.
UV Resistance
The fabric is treated with UV stabilizers to help protect it from UV exposure and damage.
Corrosion Resistance
Fabric storage buildings can be treated to resist rust and corrosion. They need to be especially resistant to damage from salt, fertilizer, mining concentrates, compost and other materials and processes that are harmful to steel. The steel support beams and trusses used in fabric structures can be hot-dipped galvanized, a known rust inhibitor. As corrosion resistance evolves toward epoxy coatings, Legacy has kept pace and includes a full range of epoxy coating for steel frames.
Many companies use TEK screws to mount the roof and wall panels. This adds thousands of holes to the frame, and these can increase water leakage. Some companies use bolts to attach their panels to the frame, reducing opportunities for water and air leakage.
Customizability
Being fully customizable, fabric storage buildings can include features such as offset peaks, sidewall dormers, lean-tos and mono-slope roofs. As an added benefit, their straight sidewalls allow you to utilize every available square foot.
Strength
Rigid frame engineering can allow you to have additional loads to be placed on the structure, such as conveyors, cranes, HVAC or fire suppression systems. The rigid frame is engineered to meet or exceed local codes related to wind, snow and seismic activity.
ExxoTec™ Fabric Summary
ExxoTec™ fabric is sturdy and long-lasting—in fact, it even carries a 25-year warranty in highly corrosive environments, a claim that cannot be matched by steel buildings.
Like many PVC fabrics, ExxoTec™ is naturally flame retardant in compliance with NFPA 701 (large and small tests), S 109 (large and small tests), California Fire Marshal Testing, and E84 and S102 flame spread testing.
No matter which type of fabric you choose, an experienced crew will apply it to a rigid steel frame using tensioning to keep the cover watertight, wrinkle-free, durable and attractive. All our fabric covers are installed with a patented tensioning process so the fabric will not require retensioning in subsequent years. Many fabric structures require retensioning a number of times over the lifespan of the structure.
Your building will be specially customized to meet your needs. From enhancing your comfort to building your brand, the fabric is an integral part of your tension fabric structure.
PVC Fabric Buildings Have Many Uses
Fabric storage buildings are popular choices for many areas of industry. In the coming chapters, we'll review six industries and discuss how they use and benefit from fabric storage buildings. The industries are:
Heavy Equipment
Salt and Sand
If you'd like to discuss these or any other industry as it relates to fabric buildings, please get in touch with us.
---
Chapter 2: Aviation Hangars
Aircraft Hangar Storage Buildings
In both commercial and military aviation applications, fabric structures have a faster ROI than steel buildings. In fact, some of the best airplane hangar designs, cargo processing facilities, shade shelters and LAMS are built with fabric.
Fabric structures for the aviation industry are a combination of the proven engineering of a rigid steel frame with the benefits of fabric. They bring a whole host of benefits.
Benefits of Fabric Covered Aircraft Hangers
Group 4 Building Rating
Due to their inherent fire resistance, fabric buildings are rated as Group IV structures by the National Fire Protection Association, which governs all commercial building applications. Steel buildings are classified as Group I, II or III—requiring additional fire suppression equipment at the building owner's cost.
Non-Conductive Building Material
Unlike steel, fabric is not a thermally conductive material. Highly conductive buildings experience extreme temperature swings, making the building hotter in summer and colder in winter.
Non-conductive fabric, on the other hand, helps maintain a moderate interior environment. This causes fewer temperature swings, and it creates a more comfortable environment year-round.
Expedited Design and Construction
Fabric panels are installed in about one-third the time of steel sheeting. This process means the building can be completed in an expedited time frame and be operational well ahead of buildings using other construction methods.
Relocatable
A portable fabric aircraft hangar may be relocated multiple times with no loss of quality. With the ease and reliability of rigid frame design, it is also possible to expand a fabric building or to attach it to an existing structure.
Nearly Maintenance-Free
Designed without paint, siding or shingles, fabric buildings require almost no maintenance. In the event of accidental damage or extreme weather conditions, fabric panels are easily patched by the building owner or by experienced installers.
Why Fabric for Aircraft Hangars?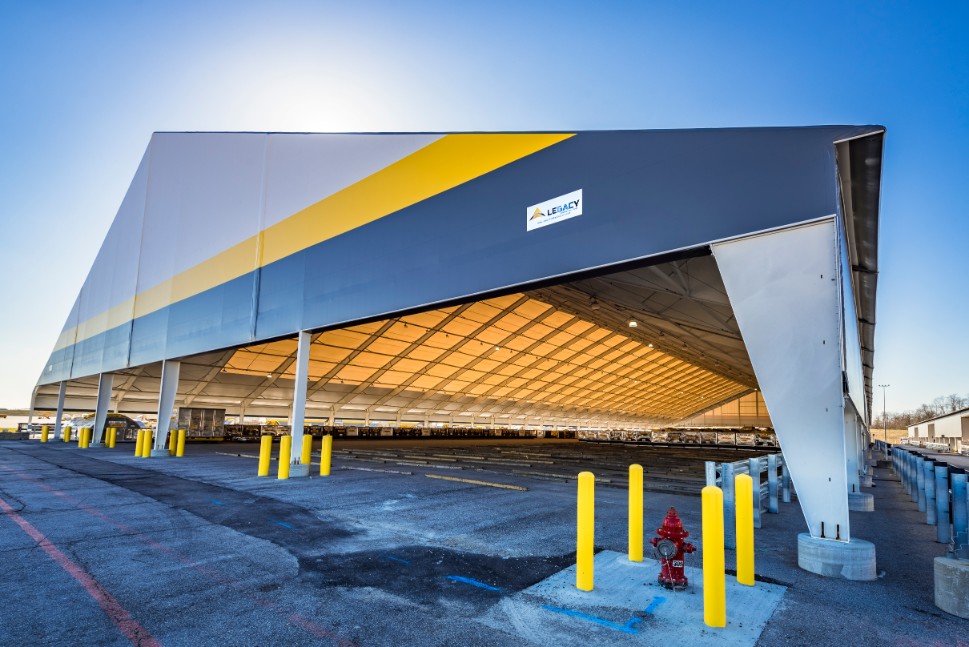 Aviation hangars combine the design flexibility of rigid steel frames with the natural light and expedited construction of fabric buildings. Steel frame can be designed to create hangars up to 300 feet wide, with over 50,000 square feet of clear area without central support columns. Peak and eave height are customizable for tall aircraft.
Each fabric structure for aviation supports multiple loads—including door loads, gravity loads, environmental loads, HVAC systems, fire suppression systems, smoke curtains and other accessories. Aircraft hangers can be designed and constructed with many different uses in mind. These include:
Aircraft assembly hangers
Aircraft manufacturing hangers
Airport logistics support hangers
Aircraft storage hangers
Fabric-covered aircraft hangers are fully customizable. Using advanced engineering practices, these hangers have cutting-edge design built in. They are capable of meeting most vertical stabilizer or wingtip clearance requirements.
Designed for ease of accessibility, fabric aircraft hangers can be installed with bi-fold doors, bottom rolling doors and hydraulic doors. Building owners can also have one endwall open.
Fabric aircraft hangars are nothing new. Here's an in-depth look at five projects:
While there are a wide range of building material choices available in the aviation industry, fabric stands out for its many desirable characteristics. When comparing fabric buildings to steel structures, the advantages are immediately obvious. Fabric provides a versatile storage option in aviation, whether you're housing a single aircraft or an entire fleet.
---
Chapter 3: Heavy Equipment Storage
Farm & Heavy Equipment Storage Buildings
Farm equipment—along with other types of heavy equipment—are high-value items that tend to spend a lot of their time in storage. Heavy equipment owners or operators knows that the health of their inventory and the longevity of their investments has a lot to do with proper storage practices. At the end of the day, having them secured in a dry, safe building will do more to help your business run more smoothly and efficiently.
When it comes to machine storage buildings, there is no shortage of options available. But when you consider which options have the greatest potential, fabric storage buildings quickly rise to the top.
Here's a look at why.
Why Fabric for Equipment Storage?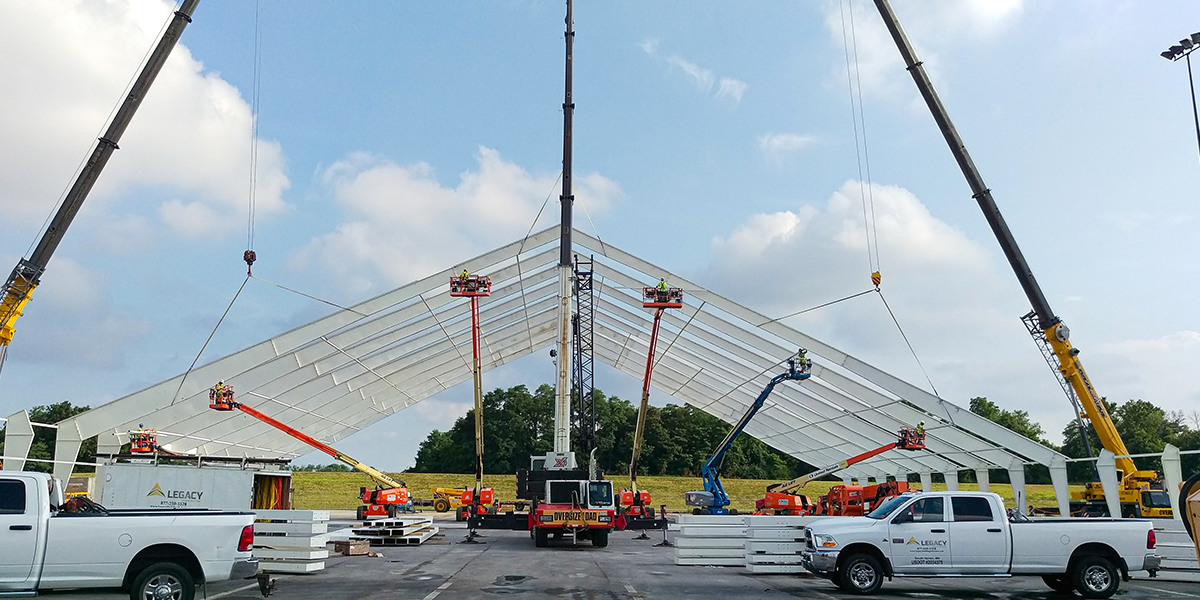 Fabric buildings can be customized to accommodate a whole host of business needs, including growth and versatility. They allow natural light to penetrate into the building—saving on ongoing energy costs and providing a better environment for employees, customers and visitors. Plus, fabric cladding installs significantly faster than steel sheeting—reducing the construction timeline.
Rigid steel frame fabric structures are unique in the fabric building industry—these are permanent buildings with a traditional building appearance not possible with tents. Customizing these structures to include multiple doors, insulation, cranes and more allows a heavy equipment storage space to function for upfitting and asset protection as easily as it does for public auctions.
And it's worth noting that fabric buildings can be engineered to meet building codes and personal requirements.
Manufacturing and Assembly
Protect your assets and employees at all stages of assembly, remarketing and fleet management. Fabric buildings are climate controlled and some provide natural light to save on lights and power.
Storage and Maintenance
Store, repair and maintain large equipment and fleet vehicles in a fabric building. These are permanent structures with a traditional look and efficient design. Get back on the road sooner with a custom structure designed to your specification.
Examples of Fabric Equipment Storage Buildings
Fabric buildings are a popular choice for businesses looking to store and protect heavy equipment. Here's a look at how some businesses and organizations protect their heavy equipment with fabric storage buildings:
Minnesota Native Landscapes equipment storage building
Rockwood Lithium Mining storage building
Hazleton Creek Properties, LLC mining materials building
BBE Hydro Constructors vehicle maintenance building
Camp Pendleton fabric warehouse
4 Considerations for Building a Warehouse that Protects Your Inventory

By following basic warehouse design principles, fabric buildings are ideal warehouses for farm equipment and heavy machinery. Let's take a look at warehouse considerations,
1. Maximize Space
Fabric buildings allow you to build a warehouse that is wider, longer or even taller. Higher sidewalls mean more space inside to operate heavy equipment or to install racking all the way to the exterior walls—maximizing usable square footage.
With solid steel beams, a tension fabric structure does not need any central supports. That means the whole floor of the building can be used and drivers won't need to thread their way between pillars. This freespan space will help you use all of the space you have.
Large sidewall entrances are available with optional jack beams. Endwall entrances can include overhead or rolling doors of any size. Adding these large openings allow safe access to the building for equipment or large components that may be necessary for your operation.
2. Control Airflow
Steel buildings are constructed of inflexible sheets bolted together with thousands of tiny fasteners. Permanently welded fabric building panels create a an exterior without small fastener holes. This tight seal keeps the elements out, even in extreme conditions.
The tiny fasteners and seams on steel buildings are also a common source of air leaks, which means that air escapes the building while the outside air flows in. This makes climate control systems less effective and increases your heating and cooling costs.
3. Keep It Lit
In uninsulated buildings, the light of the sun shines through, creating a bright interior, free of shadowy dark corners. This natural lighting allows you to save on the costs of lighting systems installed and maintained, and it creates a superior environment for stored material.
People have a natural attraction to sunlight. Workers will find the interior of a fabric building a more pleasant and productive environment, and customers will feel more excited and energized while inside.
Insulated fabric buildings are available to provide the highest level of climate control. While insulated fabric buildings lose the advantage of natural light, they use a bright white liner to reflect and magnify the interior lighting.
Combined with the tight seal of fabric buildings, an insulated fabric building will create the specific climate needed to store sensitive material.
---
Chapter 4: Feed Storage
Hay, Feed & Grain Storage Buildings
Moisture, even in small amounts, can wreak havoc on stored bulk material. Water causes agricultural products—including grain, corn, pulses, cereals, wheat, corn cobs and feed—to spoil more quickly. Moisture is also known to cause clumping and accelerate the growth of mold and mildew.
Commercial agricultural operations, including grain elevators, have long used flat storage buildings to protect valuable bulk material and prevent dampness. Flat grain storage buildings are typically subject to two sources of moisture: leaks and condensation. Fabric buildings, custom-designed around operational needs, are a drier solution for short-term or long-term storage.
Why Fabric for Grain Storage?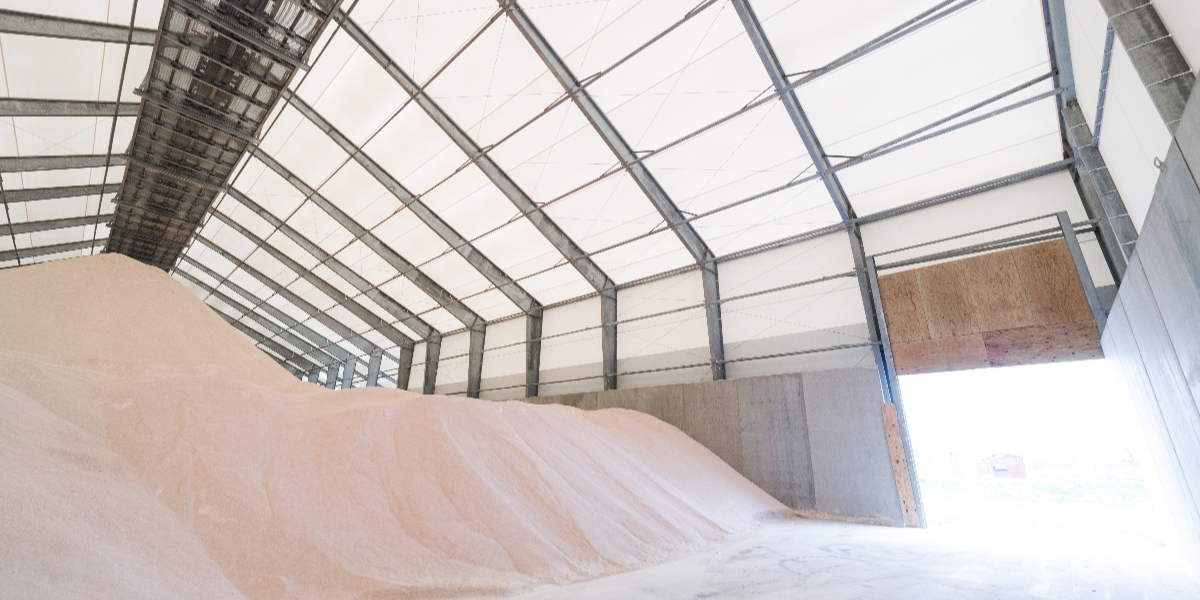 Fabric buildings are designed as a watertight solution for storing bulk grains. The flexible fabric panels making up the roof are tightly welded together with no cracks for water to invade.
Another common cause of holes in the roof? Rust. Constant exposure to rain, snow and harsh UV rays mean steel roof panels will eventually succumb to corrosion—causing tiny holes, thinning and other weak points that let water in. That will hasten the corrosion problem and lead to even more leaks. Fabric has non-corrosive properties, so it doesn't leak.
With an interior liner, fabric buildings are designed to prevent corrosion originating inside the building as well.
Tension fabric structures designed for feed production storage/commodity buildings offer unmatched strength and flexibility to meet the needs of your operation.
Supports hanging equipment and systems
Completely customizable
Add-on to any existing structure or stand-alone
Unparalleled corrosion resistance
Climate controlled
Prevent Condensation in Storage Buildings
Condensation occurs when warm, moist air comes in contact with cooler air. Indoor condensation means beads of water build up on the walls and roof and eventually drip down—damaging whatever is stored below.
Fabric is thermally non-conductive and better maintains a consistent interior air temperature. Rather than conducting and magnifying the outside conditions (leading to rapid temperature changes inside and a condensation build-up), fabric keeps the building at a more moderate temperature.
The moderate temperature of fabric buildings means more comfortable conditions inside the building. Even without insulation and a climate-control system, it naturally feels warmer on cold days and cooler on hot days.
Ventilation also keeps the building drier. A typical grain storage building uses a passive ventilation system.
Passive ventilation systems combine intake at the eaves and exhaust at the peak. Using the natural air flow, the overhangs suck fresh air into the building, closer to the level of stored material. As the air becomes warmer, it flows to the peak of the building, where it is released via roof vents.
Learn more about passive ventilation options in fabric structures.
When it comes to fertilizers or crops, the storage environment matters. Making changes to create drier conditions will pay off in improved quality and less time lost due to dealing with corrosion and other damage.
Looking for examples of feed storage fabric buildings? Take a moment to review these case studies:
Bulk feed storage building
Smithfield flat feed storage building
FWS Group bulk storage building
Franklin Feed grain storage
Bulk feed storage building
Dry feed storage building
Combining fabric with a rigid steel frame creates maximum versatility in fabric buildings for agricultural uses. Custom-engineered fabric buildings are designed to withstand extreme weather conditions.
Fabric buildings for bulk feed storage are customized to your production needs. With a quick construction turnaround and low costs, every bulk feed storage building is designed for maximum usability. Fabric is a non-corrosive and thermally non-conductive building material that protects the feed storage facility environment while preventing potential damage from harmful materials. With fabric, you'll have a customized, cost-effective feed production storage solution guaranteed to last.
---
Chapter 5: Fertilizer Warehouses
Fertilizer Storage Buildings
Modern farming practices require using fertilizer to condition the soil. Storing and blending fertilizers and fertilizer chemicals such as urea, MAP, DAP, MEZ, ESN, nitrogen, phosphate, potash, sulfur, zinc and YaraVera require specialty equipment and structures.
Bulk fertilizer fabric storage buildings offer unmatched strength and flexibility to meet the needs of any operation. These buildings are:
Completely customizable
Climate controlled
Able to support hanging equipment and systems
Compatible as an add-on to an existing structure or as a stand-alone
Fabric structures are ideal for bulk fertilizer storage and blending facilities.
Why Fabric for Fertilizer Storage?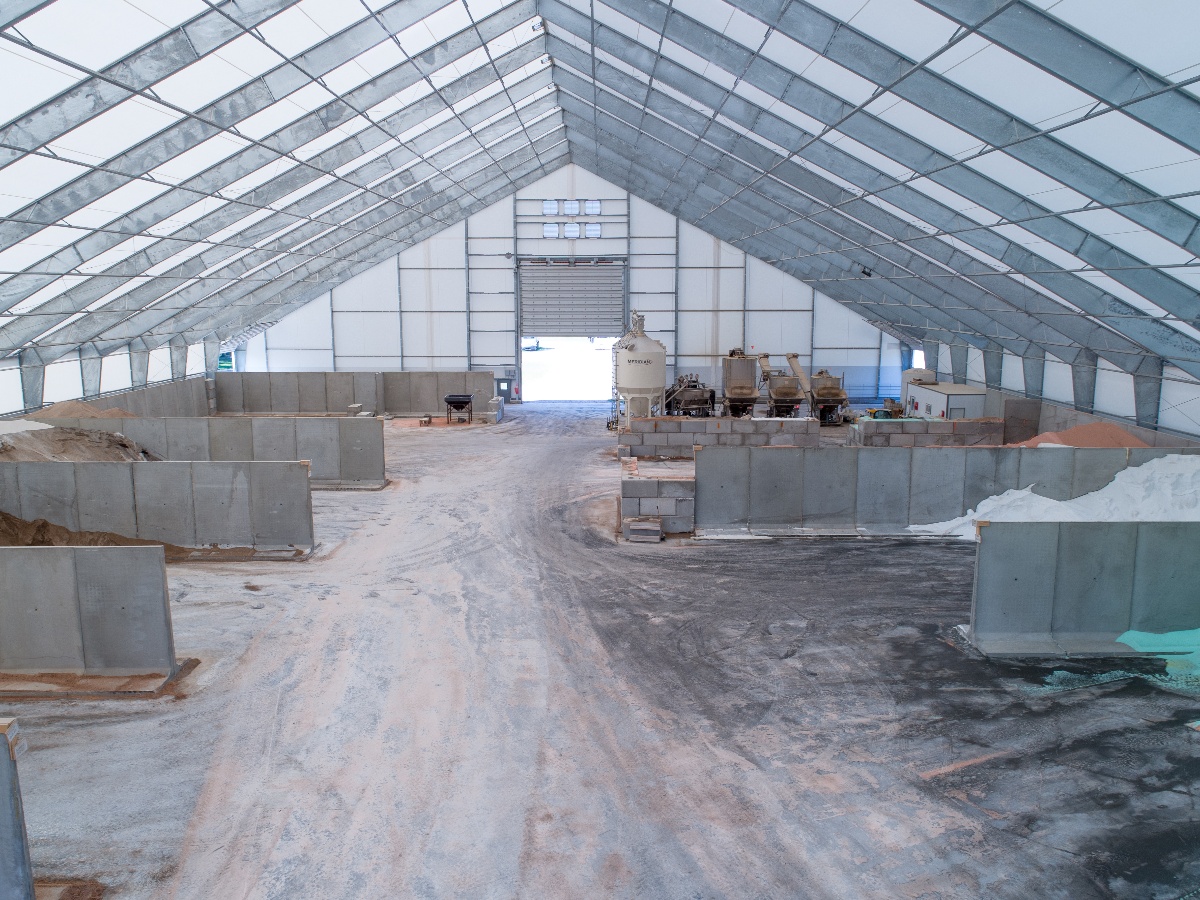 Dry fertilizer tends to coat everything in fine dust—and depending on the chemical content of the fertilizer, this causes the structure to corrode. Steel buildings can be eaten by rust in just a few years, and even wooden fertilizer storage buildings are vulnerable to rust at the joists and fasteners.
Structural fabric, including Exxotec™ PVC fabric, has non-corrosive properties. For the ultimate in rust protection, a fabric interior liner seals the structure from the inside out—keeping the fertilizer away from the steel structure, and stopping corrosion before it even happens.
Large-scale fertilizer operations require abundant clear span space. That includes separate bays to store various types of fertilizer before mixing, as well as room for receiving, load-out, material handling and segregation. Combining lightweight architectural fabric with the proven strength of a solid steel frame allows building widths over 300 feet, along with any length.
Semi-trucks, loaders, portable hoppers and other large equipment are further accommodated with wide portals and jack beams able to support any type of door for easy access, reclamation and transloading. Steel frames that don't require central column supports free up even more floor space, making loading and unloading much easier.
Fabric is a thermally non-conductive building material. Even before adding insulation, fabric structures hold the inside temperature rather than magnifying the outside conditions. This results in a building that is cooler on a hot day—lowering the risk of hot spots and preventing condensation that will drip on stored fertilizer and cause clumping.
Combining a protective fabric roof with a concrete foundation keeps stored fertilizer dry and contained, maintaining the quality of the fertilizer and protecting the surrounding area.
Benefits of Fabric Structures for Dry Fertilizer Blending
Fertilizer handling is a highly specialized practice. The Legacy team works with you to create a fabric fertilizer storage building designed to meet project specs.
Using a concrete foundation with a beam wall increases storage capacity and maximizes indoor space. In most cases, equipment such as conveyors, cranes and conditioners can be mounted to the building frame for the most efficient operation when receiving and reclaiming granular fertilizer.
See some case studies of fabric buildings used for dry fertilizer storage:
FWS Group bulk storage building
Farmers Co-op Society fertilizer storage building
A fertilizer blending facility engineered to meet customer needs provides immediate and long-term value for farmers co-ops, commercial fertilizer companies and elevators. Fabric structures protect your investment and simplify fertilizer storage and mixing operations.
Fabric vs. Wood vs. Steel for High-Volume Fertilizer Storage
High-volume fertilizer storage requires large, well-ventilated, dry space. But that opens a wide range of options: wood structures, steel structures, and fabric structures. How do they compare?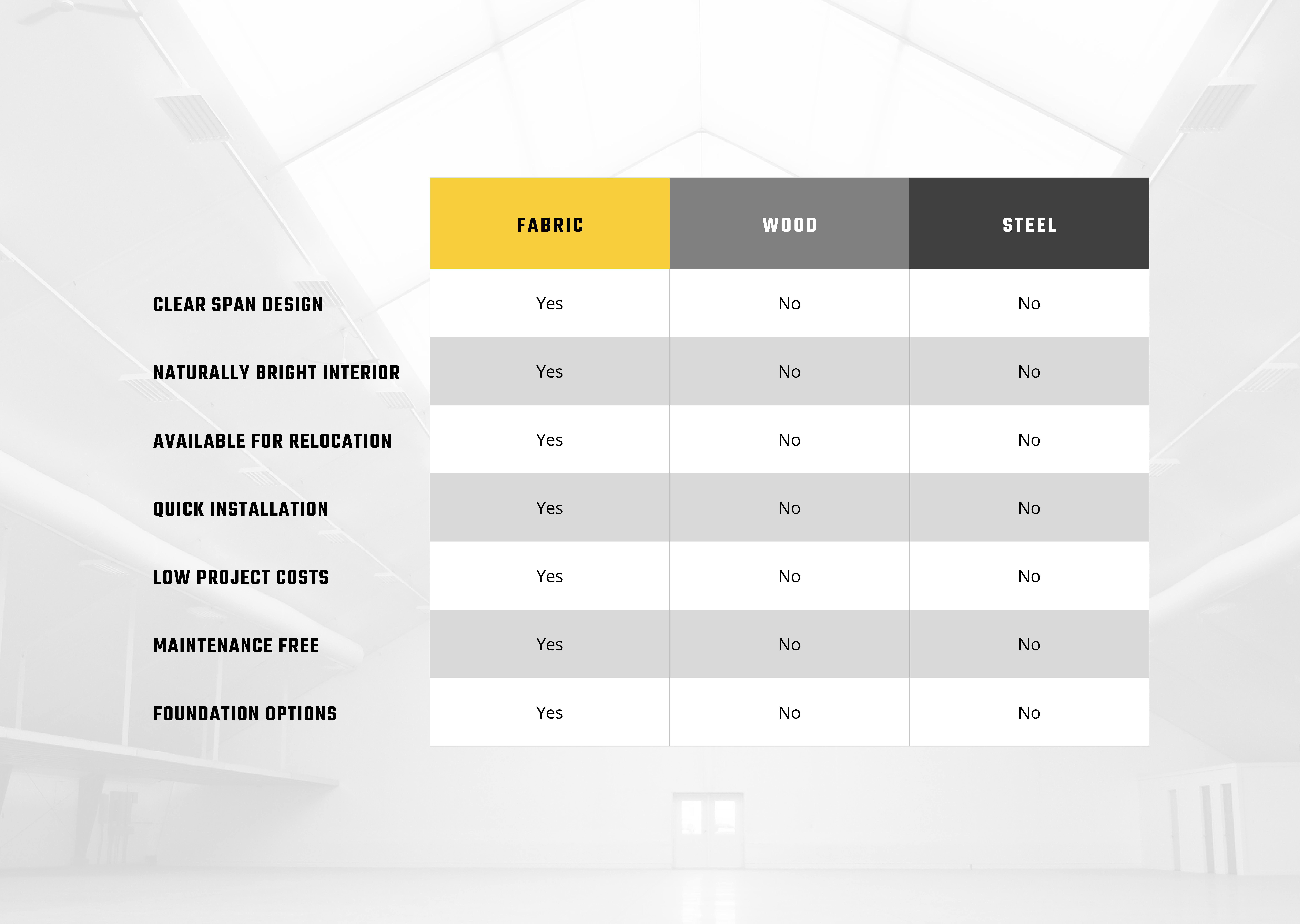 Here are some other options to consider when comparing fabric vs. steel buildings for fertilizer storage.
Fertilizer Storage Building Warranty
Legacy's fabric buildings carry a 25-year warranty when used for fertilizer storage. Steel buildings, which corrode when exposed to fertilizer and chemicals, typically do not.
How Long Does a Fertilizer Storage Building Last?
The longevity of a fertilizer storage building depends on the type of building material used. Fabric buildings are not susceptible to corrosion, which is a common source of failure in steel fertilizer buildings.
Legacy's fabric buildings are assembled with individual fabric roof panels that attached to the frame with 1/2" bolts. The roof is created without any penetrations that can cause leaks later on. With this permanent attachment, fabric buildings require less maintenance over the lifespan of the building.
Fabric as a Superior Environment for Fertilizer Storage
Fabric buildings are known for having a bright, airy interior. The translucency of the fabric allows natural light into the building, saving on lighting costs and creating a more pleasant environment for workers inside the structure. With natural light, you can even have a fertilizer storage facility that's off the grid.
Another benefit of fabric is that it is thermally non-conductive, meaning it's better able to maintain a consistent interior temperature. This helps the building feel cooler in the summer and warmer in winter. Various active and passive ventilation options keep a supply of fresh air circulating throughout the building.
As business operations change, fabric buildings can be reconfigured. With a sophisticated fabric attachment system, the building may be re-installed in a new location without loss of strength.
Making Room with Fabric Buildings for Fertilizer Storage
Fertilizer storage and mixing facilities require plenty of room for both storage and equipment, as well as requiring building materials that won't be harmed by corrosive materials. A fabric bulk storage facility is the ideal solution for commercial fertilizer storage due to its versatility, durability, and non-corrosive aspects. Fabric storage buildings are built to last and withstand all harsh elements.
Fabric buildings for fertilizer storage need to be made of strong materials to withstand corrosion and environmental stressors, as well as be adaptable to any space. Fertilizer storage fabric buildings are a fast, efficient, and cost-effective solution that can be customized to meet your specific needs. The steel structure and the engineered foundation need little maintenance, providing an investment that lasts.
---
Chapter 6: Salt Sheds & Barns
Salt Storage Domes
Salt is both non-negotiable and unforgiving. When you need it for snow events, you need it now. When you store it—because you must—its corrosive properties threaten the lifecycle of whatever building houses it.
Municipalities, for the most part, know the value of fabric structures when it comes to salt storage. The days of "throw a tarp over it" are over.
When the snow flies, DOTs, cities and counties need to mobilize to keep roads open and navigable. Salt is a vital tool in the snow warriors' arsenal. Since snow events can quickly escalate, plow drivers need to get in, get the salt quickly and get out on the road again.
The rest of the year, there's the need to protect that salt investment. Wind and moisture can deteriorate the quality of stored salt, and that's why salt storage is so important. Moreover, if you have a place to store road salt, you can take advantage of off-season rates or bulk discounts when buying it. This gives you the trifecta of protecting your investment, saving taxpayer dollars and keeping the roads open.
What's needed, then, is an effective and economical way to store road salt and sand. Fabric buildings are a perfect solution for salt and sand storage for a number of reasons.
Why Fabric for Sand & Salt Storage?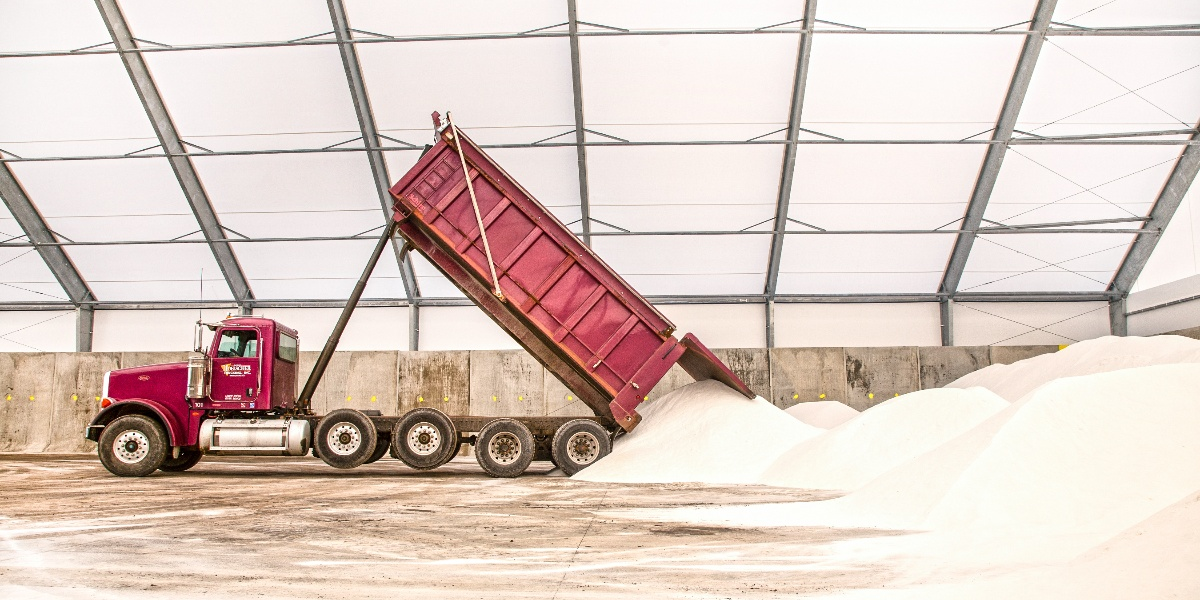 Here are four great reasons to choose fabric for salt and sand storage:
Fabric is naturally non-corrosive. Unlike steel, fabric can come in direct contact with corrosive elements such as salt.
Because fabric buildings are completely customizable, you choose the length, width and height of your building to maximize space and reduce cost. Your building will allow for ideal pile heights, and the sidewalls and peak will be high enough to maneuver tip trucks, conveyors and other equipment.
Fabric buildings are naturally well-lit. You may not need any artificial lighting during the day, and you'll use less lighting at night.
Fabric allows for an open floor plan inside the building. This gives you even more room to drive large equipment and pile road mix. With the right steel frame, you can avoid central supports that can interfere with trucks entering and exiting.
In addition, permanent road salt storage buildings also comply with environmental regulations requiring storage systems that prevent leaching and groundwater pollution.
Factors to Consider When Designing a Salt Facility
Salt storage buildings should be custom designed for maximum efficiency. Here are some factors to consider:
Required capacity—salt piles grow and shrink over the course of a year, so you need to know what you need for storage in both June and December.
Loading method—getting the salt in the trucks must be a seamless process when it's getting white outside.
The number of vehicles in use—the size and number of salt trucks in your fleet will help determine the most practical design.
Departments of Transportation often choose fabric buildings to store road salt. Learn how officials in Indiana saved money with a fabric structure.
A logical custom-designed building can also eliminate safety concerns by providing clear drive paths and adequate space.
Fabric Buildings and Salt Corrosion
While architectural fabric itself resists the very corrosive environment created by salt storage, the frames that hold the building together are not always so lucky. Corrosion can damage steel panels and fasteners within just a few years. The current state of the art for corrosion resistance is epoxy coating for steel frames, with hot-dipped galvanization in second place.
A fabric salt storage building is one tool for city, county and state officials to both keep the roads open and protect the taxpayers' money.
Examples of Successful Salt and Sand Storage Solutions
Fabric buildings have become the top choice for businesses looking to store salt and sand. Sand and salt bulk storage facilities made with fabric provide a wide variety of benefits in comparison to other construction materials. Here's a look at how some businesses and municipalities protect their salt and sand investment:
Northern Salt, Inc. deicing material storage building
Ohio Department of Transportation
Shelburne Transload salt storage facility
Archer Daniels Midland frac sand, salt and grain storage building
I-69 Development Partners municipal salt storage fabric building
Mount Marion Materials, Inc. sand and sand storage building
Five Rivers sat and sand storage building
Indiana Department of Transportation building
Department of Transportation salt storage building
Trucking Operations sand and salt storage building
Indiana Department of Transportation road salt storage
Commercial salt storage building
At the end of the day, fabric buildings have become the top choice globally to ensure materials are kept safe, maximizing efficiency and keeping costs low. For those of you seeking high-quality engineering with sturdy steel frames designed to withstand anything, Legacy's fabric structures provide just that.
---
Chapter 7: Hazardous Waste & Chemicals
Chemical Storage Buildings
From the need for volatile containment and waste decontamination to controlling odors and emissions, hazardous waste management and treatment comes with a whole host of considerations. In order to keep waste contained—and your neighbors friendly—chemical storage buildings have to do a fair share of heavy lifting. The materials and style of building for hazardous waste have a significant impact on these factors.
Tension fabric structures provide a whole host of benefits for hazardous waste storage and disposal. They can be used as waste transfer stations, recycling sorting facilities and storage buildings. Fabric buildings are versatile enough to be used as any type of waste management facility--from recycled steel to biosolids.
Why Fabric for Waste Storage?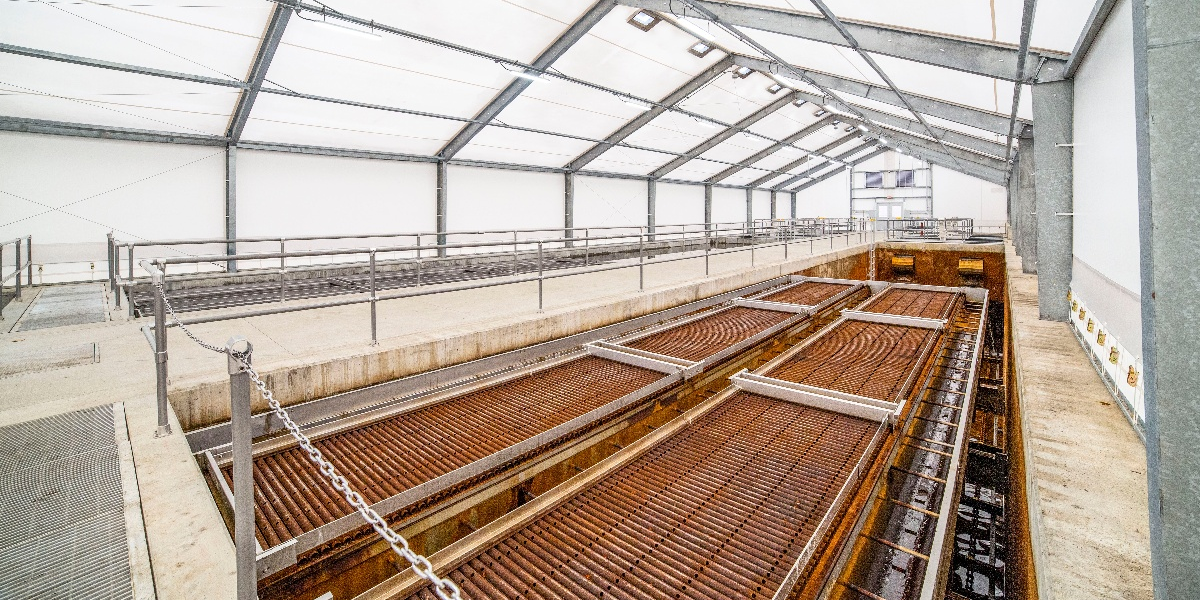 There are five main reasons to choose a tension fabric structure in your waste management facility. These buildings are:
Corrosion-resistant
Engineered strong
Versatile in their ventilation
Naturally well-lit
Relocatable
Let's look at each of these points in detail.
Corrosion-Resistance
Because fabric is inherently inert to corrosion, tension fabric structures can be used to store and sort any type of corrosive material. Hazardous materials, highly corrosive materials, and even Mother Nature are no match for non-corrosive fabric. Combine fabric with solid steel I-beams for a building that will withstand any conditions.
Corrosion resistance is an important advantage of this wastewater treatment building.
Engineered Strong
Rigid steel frames are strong enough to hang cranes, catwalks, and conveyors. An engineered tension fabric structure is best suited for this type of addition because it will be designed to safely support the weight of the addition. Adding a lean-to can easily and cost-effectively add office space to your waste management facility.
Versatile Ventilation
Fabric buildings can be designed with mesh under the canopy or in the walls, or open-end walls or sidewalls for maximum ventilation. Controlling odor is an important job of a waste management facility, and fabric is a simple solution. For greater odor control, add an active ventilation system.
Naturally Well-Lit
Fabric cladding allows natural light to filter into the building right through the walls and ceiling. This constant natural light can help you save money on electric lighting and create a more pleasant work environment for anyone inside the building.
Relocatable
Fabric buildings are designed to be permanent but can easily be relocated if needed. The entire fabric waste management facility can easily be taken down, shipped, and reconstructed.
Fabric Buildings for Remediation
When used for environmental protection, fabric structures are customized to fully enclose equipment including chemical tanks, fuel tanks, water and sewage covers. Additional equipment such as HEPA filters, air exchangers, fans and exhaust systems are suspended from the substructure to keep them accessible yet securely out of the way.
The fabric used in remediation structures varies from translucent for energy-saving daylight harvesting to completely opaque for blackout applications. Translucent fabric panels or skylights generally produce enough diffuse light for safe storage or daytime operations, so these facilities can be off the grid. Exxotec fabric is fire resistant.
Corrosive Gases
Inside a fabric structure is an ideal environment for biogas and biomethane production. Corrosive gases from volatile organic compounds (VOCs) and biological contaminants will not damage the fabric cladding. Steel framing members may be epoxy coated, hot-dip galvanized or covered with a fabric interior liner for complete protection from corrosion.
Ventilation and Air Filtration
Framed openings are available in any size and location on the structure. Openings range from small enough for ventilation and air filtration systems, all the way to large openings for truck and equipment loading. Fabric structure erection crews have the flexibility to install openings, or they may leave framed openings for local crews to install doors and systems at a later time.
Examples of Fabric Buildings for Waste Treatment
Fabric buildings are designed for maximum efficiency, odor control and durability. Their translucent material creates a natural energy-saving environment by allowing in natural light, and the steel beams are constructed from 80% recycled steel. These case studies provide some real-life examples of fabric buildings designed for waste treatment:
Wastewater settling tank cover
CH2M-WG Idaho remediation building
Waste recycling sludge drying facility building
Composting Biosolids in Florida
Fabric structures are ideal for environmental remediation and bioenergy processing. Designed to create negative air pressure, odor and emissions are easily controlled and aid in compliance with good neighbor statutes. When biomass facilities are constructed with corrosive resistant components, volatile compounds will not damage the cladding and framing.
Fabric structures in the waste and recycling industries are designed for maximum efficiency, odor control and durability. These energy-efficient fabric buildings provide a cooler, drier environment to slow the growth of mold and bacteria. Adding aeration and circulation systems allows for the best air quality and environment. Plus, clearspan space and tall clearances mean more room for heavy equipment maneuvering and piles.
Fabric buildings combine the design flexibility of a custom-engineered rigid frame along with the energy-saving, non-corrosive interior of fabric. The benefits of fabric buildings will allow you to focus on your operation without worrying about your facility.

Interested in discussing fabric buildings? Get in touch.